50

Years of Manufacturing Excellence
1973 - Starting with innovation
Sapphire Anodisers was established in 1973 by Robert (Bob) Husband. Bob had been in the aluminium industry for a number of years manufacturing high quality shower screens and had increasingly become fed up with the quality of the anodising he had been getting on his product. One day he had finally told his supplier that if the supplier could not do better he would do it himself, needless to say his supplier laughed at him. Bob was not the sort of person to be put off in the pursuit of quality and opened the paper the next day and found an advertisement for an anodising plant for sale.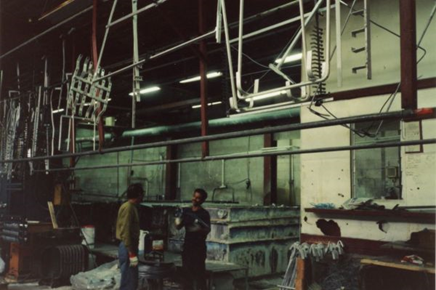 The original anodising plant at 43 Sydnenham Road, from humble beginnings
1986 - Introducing Partition Systems
In 1986 Sapphire Anodisers commenced supplying and stocking its own aluminium partition systems and as a result is today a leading supplier of Aluminium Partition Systems to the Australian and Asian Markets.
1995 - Manufacturing Facility Upgrades
In 1995 Sapphire moved in to its new state of the art manufacturing facility in Somersby being an acre undercover and featuring the latest in environmental controls ensuring our environment is preserved for future generations. The new facility allowed Sapphire to enter into the external facades markets and provide coatings for other markets that we were previously unable to service from our old plant in Brookvale.
2000 - Rebrand for a bright future
Sapphire changed its name in 2000 to Sapphire Aluminium Pty Ltd to reflect the company better as supplier of aluminium and finishing
Driven by the same ethics since day one
Quality
Sapphire is driven by its continued pursuit of quality, there are no shortcuts to quality. It is acheived by using the best materials and equipment available and by training our staff to uphold and deliver on the company's values. Sapphire has been delivering quality for over 45 years and is the company referred to when quality is demanded in Coloured Anodised Coatings.
Honesty
Sapphire does not engage in or tolerate illegal behaviour including bribery, slavery or corruption.
Safety
Sapphire provides a safe workplace and training to ensure that our employees feel protected. This is achieved through regular audits and process improvement.