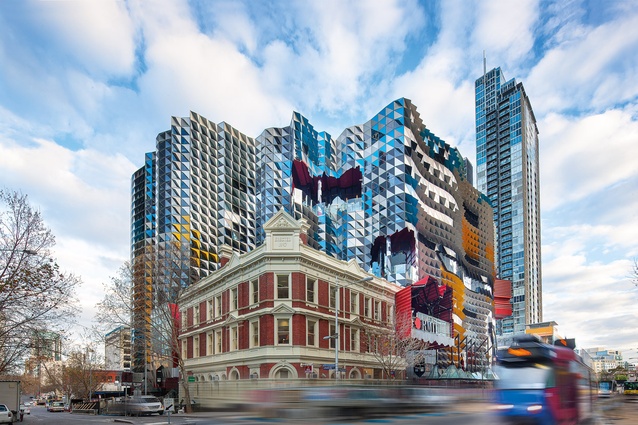 Jury citation
A city block has been extruded into an immense scaly blob, pierced by mysteriously shaped voids. Openings in the beast at ground level give access to a delirious tornado of internal circulation that has thrown off chunks of skyline. Supersaturated with colours, shapes, forms and ideas, this is a hallucinogenic learning environment.
And yet this Bizarro World is the result of a highly controlled, process-driven investigation into learning environments. The designers have managed to divest themselves, to an extraordinary degree, of inherited solutions, expectations and aesthetics and therefore to open up new areas to explore and to respond in a highly direct way to design challenges. This divestment is difficult enough for designers, but for clients and contractors it can be even more frightening; this project is the result of an extraordinarily brave journey for everyone involved. The extreme efficiency given to the design procedure through this lack of editing or angst over what things should be, where the arbitrariness of form is embraced, has allowed an immense diversion of energy to finding creative solutions. This is, bizarrely, what true functionalism might look like, rather than functionalist styling. It reveals what immense investments of resources go into "taste" in most design, and what freedom and opportunity there is when it is removed. Need 50 percent glazing to achieve the facade performance? Simple, chop each panel into half glass, half solid. Next!
Despite its size, the huge building is easy to negotiate and filled with great spatial moments. The city-profiled loggias penetrate to the internal void in a pinwheel arrangement, and always allow connection to the exterior and visual relief from the uniform triangular glazing panels. Learning spaces are shaped around teaching methods, auditoriums allow group work, teaching rooms cascade one into the other for special events. Various sets of interior languages that address requirements – acoustics, display, lighting, storage – are used in different areas, applied where appropriate, collaging together in the circulation spaces. The building is eminently habitable, with breakout spaces, ledges and seats everywhere for informal groups of all sizes.
Super smart, radical, efficient, cost-effective – this is a wondrous construction, seemingly wild, irrational and capricious, but in fact the result of a steely rigour and pure process.
For more infomation and photos on this project click here